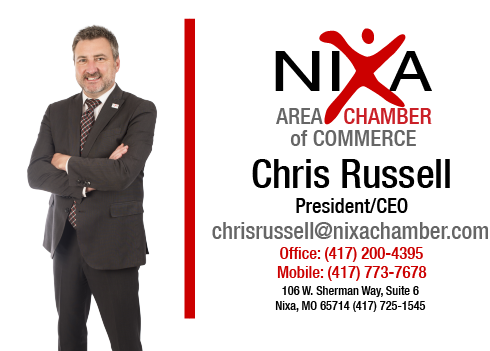 Diversity and Inclusion
Chris Russell
President/CEO Nixa Chamber
2020 has been a year of challenges for sure.  On a positive note, some of the social issues this year helped bring awareness of businesses and organizations making sure to sure they understand the words diversity and inclusion.  As a chamber, we have always been an organization who embraces everyone however we began to see how our Mission, Vision, Beliefs and Perspectives could help attract more diverse business owners to our community with some slight changes. Recently, I assigned Melissa McCormick our Vice President of Membership to do some extensive research on what diversity and inclusion really means from a business perspective and we will share her findings very soon.  She did an outstanding job reaching out to many experts, watching online webinars, and having one on one conversations with many.
At the last board meeting, I proposed we add some simple words to our Core Values and to our Perspectives to make sure we are providing resources and the feeling of inclusion to those who may fit that category.  It is very important to us everyone who wishes to do business in Nixa and with our chamber, they know we are very supportive and encouraged to reach out to your chamber to see how we can help you succeed.  Soon you will see some additional resources on our website and in our newsletters from time to time.  We are committed to servicing all who wish to do business in Nixa.
The changes we made are highlighted in Red below.
We are proud to be your chamber and will continue to work hard to be the "Premiere Business Organization" for you.
Chris Russell