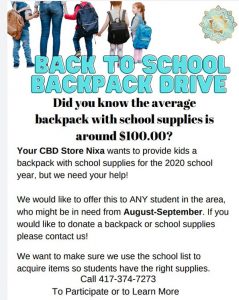 Hey everyone! It's Justine and Your CBD Store in Nixa! I am doing something special for all the kiddos in our area! I want to give bookbags full of supplies to the children for free during this rough time! I will need donations to keep this going I want to hand out as many as possible! I will be using my own funds to get supplies, but donations would be helpful!
If you want to make a donation you can call my store or you can stop by my store in Nixa and drop it off
238 village center Street Nixa Missouri
417-374-7273
Also, contact me with any questions or concerns thank you so much and I can't wait to help the children of this community!
Hours are 10am-4pm M-T Friday-Saturday 10-6