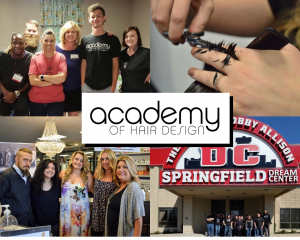 The Academy of Hair Design is a school of Cosmetology, Barbering, Esthetics, and Manicuring. Our students are the heart of our school, which is why we not only focus on education but the well-being and happiness of our students as a whole.
The Academy knows that it's not enough to just teach the technical aspects of this industry, we have to create business-minded individuals who can navigate through the business of beauty and barbering. One way we do this is through our Business Realities Program. This curriculum focuses on how to successfully market your brand, build your business, and provide a customer experience that keeps them coming back for more.
How do we show our students a great customer experience? With our very own student salon and monthly involvement in our community! Our partnership with the Springfield Dream Center brings such joy and purpose to our students. The first Wednesday of each month, a team of students make their way to the Dream Center to provide haircuts for those who cannot acquire this service themselves. Getting to impact an average of 20 people each month makes almost as big a difference in our students' lives as those they are helping. Another way we teach customer experience is by participating in Nixa's Back to School Bash. When our students see those smiling faces after completing a haircut, it makes all their hard work worth it! Last year, we provided a total of 99 haircuts, and this year, we hope to influence even more students' lives. We also continue to provide free haircuts to our military, first responders, and other organizations in need. It's our honor to serve our guests and community.